Browse Metal Restoration Products by Category
About our Metal Restoration Products

EverBrite Protective Coating
EVERBRITE Protective Coating is a tough, clear protective coating that will bring back the color and luster of old, faded metal and will protect from the damage that the sun, salt air, acid rain, moisture and other damaging elements can cause. Rejuvenates the color and luster on faded, dull aluminum or steel siding, metal buildings, window extrusions and so much more. Everbrite Protective Coating has extra UV Blockers and Anti-Oxidants in it to prevent chalking, fading, oxidation and corrosion. Graffiti resistant. Everbrite will protect metal from tarnishing: use on copper roofs, gutters, deck caps and more.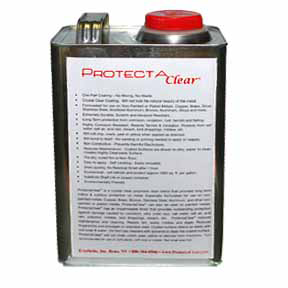 ProtectaClear Protective Coating
ProtectaClear is a tough, clear protective coating which provides protection for metal from salt damage, tarnish, corrosion and oxidation. ProtectaClear is tough and scratch resistant for metal that gets a lot of handling like railings, jewelry or other metal that gets lots of use. Reduces fingerprints and smudges on stainless steel. Protect copper or brass sinks or copper counters from tarnish & waterspots. Click here for more information. SATIN FINISH - Some painted metals look better without a gloss finish but still need protection. Both Everbrite and ProtectaClear are available in a Satin Finish. A Satin Coating can dull down the shine on overly shiny metal.
Restore any Metal and Most Surfaces to it's Original Luster

I was really surprised at the results. The wheels looked new again. The wheel restore is amazing! -Floyd

I was just thrilled with the results. I sell my jewelry with confidence knowing that it will stay beautiful over time. -Susan M Collett

Your product is amazing. I will be pursuing more projects with this wonderful product! -Jeff Wilder